Versatile Tractors from The Tractor Shop in Seymour, Texas
Carl chose to sell the Versatile brand because of his years of experience repairing a variety of tractor brands.  He believes Versatile tractors have demonstrated their longevity, durability, and simplicity.  Carl and Cody both own older Versatiles that are still running strong after decades of use.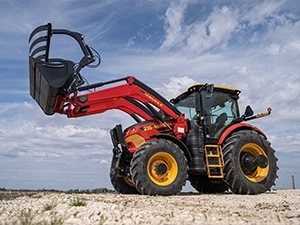 The Versatile Nemesis is built with productivity in mind. These mid-range tractors are truly versatile and can be used in a wide variety of applications ranging from mowing, baling, material handling and field work. Read More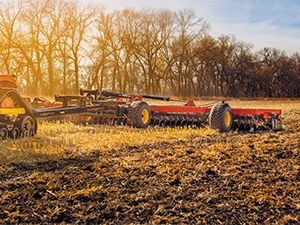 Versatile high speed discs are built to boost productivity without sacrificing seedbed quality or performance. The Fury HS uses an aggressive 20° disc angle and a wide range of working speeds to provide a superior field finish. Read More
If you want a tractor that has proven itself to be tough, durable, and high-performing, you can't go wrong with the Versatile brand. These tractors are built to last for decades of use. From Versatile Tractors for farming, construction, and any other job you have to tackle, we've got what you need.
4WD Tractors
Four-wheel drive tractors are powerhouses that are ideal for use in tough conditions. They feature an advanced hydraulic system, excellent torque, and heavy-duty pulling power. Experience a smooth shifting and programmable transmission, along with controls that are easy to learn and use.
The large cab boasts a comfortable operator seat and 85.9 square feet of glass windows to give you an unimpeded view of the field. A front and rear wiper-washer system, sun visor, and multi-directional vents help you keep your sightlines clear and the temperature in control so you can work in nearly any conditions.
DeltaTrak Tractors
Versatile DeltaTrak tractors deliver both power and reliable performance. The large cab features large windows and a semi-active seat. Stay cool and comfortable in any weather with a heated and ventilated seat and multi-directional vents. The DeltaTrak has an X15 Cummins engine for pulling strength and torque, plus a fully programmable CAT transmission.
Choose between the CAMSO 3500 for exceptional quality and power at an affordable price, or opt for the CAMSO 6500 track series for heavy-duty performance. Both DeltaTrak track series are designed for longevity and durability, with no track slippage. The tracks maintain even weight distribution and equal torque to make turning easier, even when carrying heavy or bulky loads.
MFWD Tractors
Undertake any farming job with confidence and ease in a Versatile MFWD tractor. These models feature a touch-screen monitor, LED lighting packages, and dual rotary beacons. A full 73 square feet of window glass gives you a prime view of your field while seated in the semi-active suspension and swivel seat for optimal comfort, even during the longest days.
The Cummins engine is powerful, yet fuel efficient, and the transmission design allows for shifting at the press of a button. A high flow hydraulic system with four hydraulic valves connects to the cab's display monitor for ease of control. Durability and reliable performance are at the forefront of the MFWD tractor.
Nemesis Tractors
Versatile Nemesis tractors are ideal for tackling field work, from mowing to baling, and more. Operators stay comfortable in the spacious cab with plenty of legroom and large glass windows to keep your eye on the field. The controls are simple to learn and easy to use, with everything you need within reach of your fingers. Other features include the front-end loader, advanced hydraulics, and a 3-point hitch. The Nemesis offers options for customization to adapt your tractor to your unique working conditions for optional performance.
Fury High Speed Discs
Versatile's Fury HS discs help you increase productivity while maintaining quality. It features a 20-degree disc angle and a variety of speeds to get the ideal finish. The Versatile Fury HS disc lets you choose the blade size and disc angle to adjust your tractor to the conditions of your field for better performance.
The frame design of the Fury High Speed Disc is heavy, rugged, and capable of handling even hard and dense soils. Rubber torsion protections on the blades help the arm move over obstacles, while the large tires provide flotation to avoid compaction. You can also move from field to road with under 12 feet wide clearance.
The Tractor Shop is an authorized Versatile dealer and sells both Versatile tractors and parts. Check out our extensive inventory of tractors, parts, or bring your tractor in for servicing by one of our factory-trained technicians. Whether you need routine maintenance, repair work, or a complete overhaul, we provide the expertise and support you need to get your tractor back in excellent working condition.